Duterte binaliwala ang sulat galing sa CHR.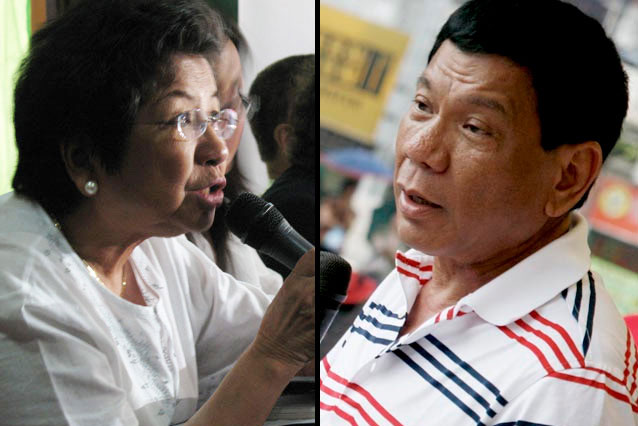 MANILA, Philippines – The camp of presidential candidate Davao City Mayor Rodrigo Duterte has ignored the request of the Commission on Human Rights (CHR) for comment on a complaint filed against him over his controversial remark last month.
Duterte did not respond to the letter sent to his office by the CHR, through focal commissioner for women and gender concerns Karen Gomez-Dumpit.
In the letter dated April 22 and received by the Office of the Davao City Mayor on April 26, Dumpit informed Duterte that a complaint was filed before its office with regard to the alleged violation of the Magna Carta of Women over his rape joke.
He was given five days to comment on the complaint.
"After the lapse of this period, the matter shall be submitted for consideration by the commission acting as Gender Ombudsman, in accordance with the Magna Carta of Women," added the commissioner.
The complaint stemmed from the remarks of Duterte over the rape of the Australian missionary who died during a hostage-taking incident at a Davao City prison in 1989.
"(His actions put) in peril the future of many children and young women who are potential victims of violence against women," read the complaint filed by several women's groups.
"What protection and redress would they expect in a society where men tolerate such violation?" it added.
Earlier, CHR chairman Chito Gascon said their doors are open for the response of Duterte, who had said he will not participate in the process.
Gascon said due process and rule of law dictate that every person is given the chance to respond to the charges.
"All public officials have a sworn duty to uphold the Constitution and laws of the land," he said.
The CHR chief said the agency would just proceed with the process if Duterte decides not to answer the complaint.
"We call on everyone that we all follow the due processes of the law in this issue and in any other discussions pertaining to human rights," he added in Filipino.
Source: Philippine Star